Model Finn Buchanan One Of Fashion's Good Guys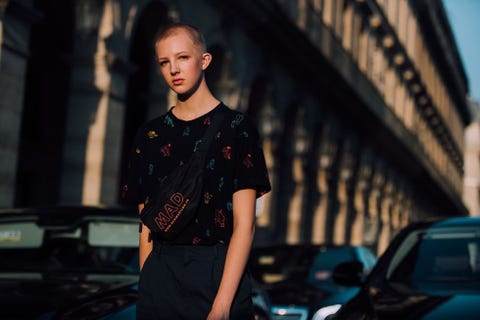 GETTY IMAGES
Finn Buchanan flops into a chair like he's been on his feet for a year. It's raining in Paris, and both of us are a little floaty from the grueling thrill of Fashion Month. Buchanan has walked 11 shows in as many days and would have done more, if pesky French labor laws didn't preclude him. He's 17, and forbidden to work between 11pm and 6am, when many castings and fittings take place. "I don't feel 17 though," he sighs. "I kind of feel ancient."
That may be, but all evidence says Finn Buchanan is a total teenager. He's got the tangled speech and angled limbs of a kid still growing. He hoards cool sneakers; he's always snacking. He's fallen so hard for his girlfriend—Belgian 20-year-old Maxim Magnus, also a model—that he's tattooing her face on his chest. And he trades silly phone videos with his parents, who live in North London and seem pretty chill with the whole fashion racket.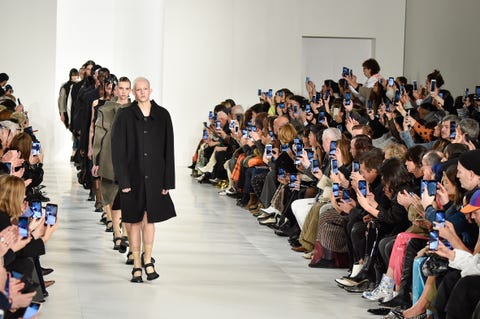 Finn Buchanan leads the pack at Margiela A/W 2019-2020GETTY IMAGES
When Buchanan was 11, his mom took him out of school one day to see an Alexander McQueen exhibit at the Victoria and Albert museum. "I thought it was going to be soboring because it was like a museum exhibition," he says, grinning. "But it totally changed my life. I was so overwhelmed and emotional. I was like, 'I've never seen clothes like this. I've never seen anything like this. This guy, before he died, he changed people's lives with clothes. How can I do that? I need to do that."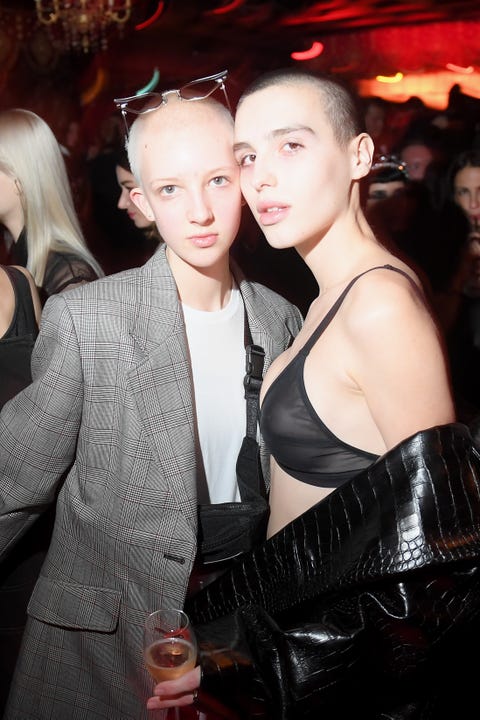 Buchanan and his girlfriend Maxim Magnus in ParisGETTY IMAGESADVERTISEMENT – CONTINUE READING BELOW
Six years later, Buchanan is doing that. In addition to being a British teen, a science nerd, and an audacious tattoo client, Finn Buchanan is an openly trans man on the women's runways of Paris Fashion Week… and the men's runways of Paris Fashion Week… and all the other runways he books. That includes star turns at Marc Jacobs, Celine, and Miu Miu, in whose lookbook you can spot him posing alongside Taylor Hill. Other luxury brands have enlisted trans women in their campaigns—Andreja Pejic, Hari Nef, and Indya Moore among them—but Buchanan is the only trans guy with a multipage Models.com deck of his catwalk coups.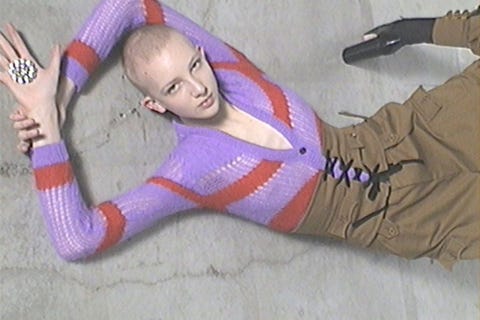 Finn Buchanan in Miu Miu's Pre-Fall LookbookSHARNA OSBORNE
"I don't care what I've worn on the catwalk. Dresses, skirts, it's all just fabric," Buchanan says. "And if those images make other boys, or girls, or whoever feel cool or more visible, that's amazing. I think it's so cool that fashion can make people happy. I want to use fashion to make people happy. That's basically it; I'll wear whatever," he shrugs. "It's not weird to ask me to wear a [women's collection] look in a show. What's weird is like… do you know how many people ask how I have sex?!"
'I DON'T CARE WHAT I'VE WORN ON THE CATWALK. DRESSES, SKIRTS, IT'S ALL JUST FABRIC.'
We both burst out laughing. It's not funny—it's actually really awful—but also, come on. "Literally every interview I do, people are like, 'So how did you know you liked girls? How did you know you were a boy?' It's like, bro. How do you know who you are?' But if you had asked that," he sighs, "I mean, I get it. I'm used to it. As long as you're not, like, cruel."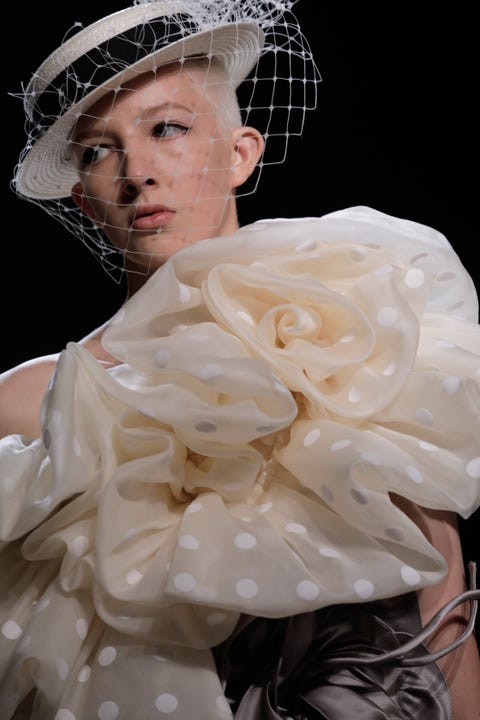 Finn Buchanan at Marc Jacobs Spring / Summer 2019GETTY IMAGESADVERTISEMENT – CONTINUE READING BELOW
That question wasn't on my list. But I couldn't resist poking a different sort of bear, asking the Margiela model why he decided to work with designer John Galliano, despite his infamously, like, cruelcomments about Jews in 2011. "I did think about that when I heard they wanted to hire me!" he says. "You know, the research I did about him was, everyone's heard about [his anti-Semitic tirade] at Le Perle. But it's many years since, and in those years, it's my opinion that he's completely turned his image around. And the reality is, drugs fucked him up and he said awful things. He got sober, and he really faced what he had done."
"I don't want to sound ignorant—and I am ignorant; I understand I'm a kid. But in my personal experience, him and his whole team were sorespectful. Almost everyone used the right pronouns from the beginning… I felt like everyone made a real effort to be respectful and calm and super chill. It was good vibes the whole time."View this post on Instagram
round 3 of @maisonmargiela very fun and fresh thankyou much @jgalliano
A post shared by FINN (@finnbuchanan_) on Jan 23, 2019 at 2:59am PST
Buchanan is currently wrestling with another ethical issue in fashion, namely fur and sustainability. "I don't think I've ever worn fur on a runway," says the vegetarian, "but if Fendi booked me for their show and said, 'You can only be in it if you wear fur,' I'd be like, 'Hell yes, put me in whatever you want!' Because I think having me in the show and what that would mean is such a big deal. Also, something we don't talk about a lot is that faux leather is so much worse for the environment than actual leather… Just the chemicals it takes to break down materials for fake leather, they're so damaging… They're kind of worsefor animals than actual leather."
I say that adulthood is one long jagged line between the absolute poles of right and wrong. He looks at me with the pity and sweetness of a 17-year-old boy who's too polite to say, "Dude, you are, like, so old." Then I tell him his research on sustainable materials is solid, and he might want to study science in college.ADVERTISEMENT – CONTINUE READING BELOW
"I actually wanted to be a cosmetic surgeon!" he laughs. "No, come on, I really did! I watch all the videos on YouTube. It's the fucking dream. But I dropped out of school to model, so… at least for now, I can't become a doctor. If I ever do though, I want to do tummy tucks and boob jobs. I like it because it's so gory, but then at the end of it, it makes people so happy. I'm so into that."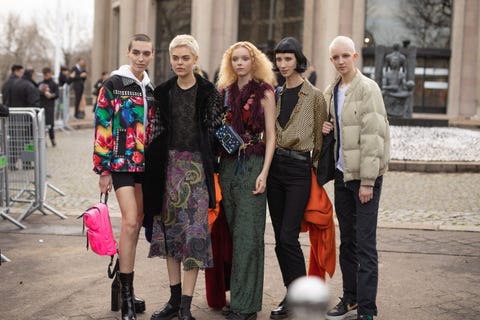 Maxim Magnus, Anna Rubin, Lily Nova, Sasha Knysh, and Finn Buchanan after walking the Miu Miu showGETTY IMAGES
Making people happy is a running theme in Finn-land, from the kids watching him on the catwalk to the Prada shoes he recently bought for his girlfriend. "It's crazy how a great pair of shoes can make this person feel loved and appreciated and super happy. How great is that?"
'IT'S CRAZY HOW A GREAT PAIR OF SHOES CAN MAKE THIS PERSON FEEL LOVED. HOW GREAT IS THAT?'
Another thing that makes people happy? The circus, which Buchanan has also (briefly) joined. "It's because of church, basically," he says, as if, of course. "My brother was a choir boy, and I was like, 'Mum, I do not want to watch Patrick learn to sing in a vestry every Sunday.' I think my parents just Googled, 'What do you do with your kid on a Sunday?' And they sent me to circus school. I was really excited about it, to be honest. I was such a little kid, but I thought, 'This is the best. Everyone's dressing up in weird shit and doing crazy things, and everyone else is standing around appreciating it and getting happy because of it. How do I learn to do it?' I can still juggle, a little. But I also learned contortion, high wire, trapeze, flying trapeze! But now I regret ever [talking] about it, because every article about me is like, 'Circus Boy Finn Buchanan,' as if I'm some kind of…" he trails off. "I mean, it's like, great, that's my reputation now."
I ask what he wants his reputation to be in the future; if after working with Miuccia Prada, Katie Grand, Hedi Slimane, and more, he has any role models or guides on his path through fashion. "Not exactly," he says. "But I've met people who treat the other people around them really well, really kindly. And I've met people who treat people terribly. So I don't have a role model, per se, but being an actual model, you see a lot of people who think you're not paying attention. I mean, obviously I am. I see everything. I see a lot of people in the fashion world who suck, and I don't want to be like them because they're mean. And then I see a lot of people who are awesome, and treat people really well, and I think, there, that's my goal," he smiles. "I guess what I'm saying is, I want to be one of those guys. One of the good guys."